Tamilnadu Police Sub Inspector Coaching in Chennai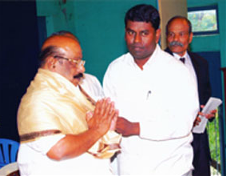 Roy Academy in a Nutshell
Roy Academy is a Professionally Managed and No: 1 Uniformed Services Coaching Academy in Tamilnadu Since 1995 with healthy Success rate, Placed over 2000 students especially in various Uniformed Service Cadres. Our unique training methodology helps the aspirants to achieve their goal at ease.
Roy Academy has been producing consistently good results in every notification, We are a leading Sub Inspector Coaching academy in Tamilnadu in terms of the success ratio in Sub Inspector – SI Exam and Police constable Exam. The meticulously maintained coaching quality, the whole heart student support and the healthy competitive environment made Roy Academy the unanimous choice.The specialized notes, workbooks and manuals prepared by our experts consultants and faculty on all the subjects of Sub Inspector and Constable examinations, are thorough research-based and supplied to students as part of the Course have contributed in a great measure to our achievements. These resources and carefully chosen books resources together contain thousands of model and typical question answers of Police Recruitment Examinations and are updated for every exam. These books are supplied as part of our Courses and are not available separately.
Vision
To provide the best quality coaching and guidance to Uniformed Services aspirants of Tamilnadu. vision to train, motivate and make the students get the job with one-attempt by redefining the value of education.
Mission
Once the student comes and joins our institute he/she should get the job. For that he/she can utilize our services in any manner with no restrictions
Other Coaching Programs Offered
Tamilnadu Police Sub Inspector Coaching (SI)
Tamilnadu Police Constable Coaching (PC)
TNPSC GR- II, GR – IV, VAO
Bank Exam (IBPS & SBI)
Coaching Highlights
Exhaustive Course Content.
Unparalleled, Expert team of teachers.
Separate specialized teachers for every section.
Focus on tricks and short cuts in Maths and reasoning.
Weekly full length tests.
Adequate competitive environment among students.
Student-friendly faculty members, always available to guide you.
Interview preparation by highly experienced faculty members.
Regular Exam Alerts and Application Assistance.
Search Incoming terms:
Police Sub Inspector Coaching in Chennai | Police Sub Inspector Coaching in Chennai | Tamilnadu Police Sub Inspector Coaching in Chennai | TNUSRB Police Sub Inspector Coaching in Chennai | Police Sub Inspector Coaching Center Tamilnadu|TN Police Sub Inspector Coaching in Chennai
Visit ROY Academy Website